Max here; Charlie's moping around the Casa as dad's out of town, so I finally got my chance to Shanghai the ipad. As with Charlie, my story BC (Before Casa) is unclear; there had been some puppy mills shut down in the mountains of North Arkansas, with a rash of abandoned dogs resulting from people trying to ditch evidence.
 My sister and I were found in an abandoned house, screaming, not barking, in hunger, even now I've got a biiiig mouth for such a small dog. Dad was convinced at first that I was mentally damaged, as I lay unresponsive next to his leg for the long trip home; we stopped at an abandoned car wash so dad could assess the damage before introducing me to mom. The dog that jumped out of the car that afternoon was not the same dog that climbed in that morning, and it's been a party ever since; everyone claims I hit the dog lotto jackpot when I took up residence at the Casa del Whackos.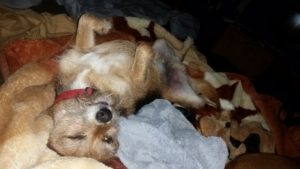 I've been to the Smokies, the Atlantic ocean,  the Rockies, and all over the Ozarks, I sleep where I want, eat what I want; all I ask is that dad be in the immediate vicinity, as I still have separation anxiety. I do have to admit that I was alarmed at all the hubbub when Charlie entered the picture, as I was used to getting all the attention, but things are starting to sort themselves out. I love road trips above all else, but have absolutely no desire to ever saddle up on a motorcycle.
Where Charlie is boisterous and carefree, I'm much more cerebral, always thinking three and four moves ahead to ensure my wishes are fulfilled; if dogs were games, she would be checkers, I would be chess. When we're out in the woods, Charlie takes off in a thousand different directions on a million different missions:  while I do like exploring, I always have my radar-like ears turned backwards so I can keep tabs on dad's location at all times.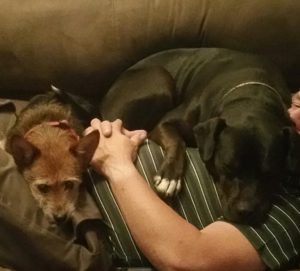 On a,recent trip to Colorado, I found a delectable new treat: marmot poop, always better when consumed above 12000′. Mom must be a huge fan as well, as she kept trying to chase me down and take it from me; I swear, woman, find your own! I must have skipped "share" day in kindergarten. The only thing more fun than snarfing it down is yarking it back up, especially in the confines of a jeep where all in proximity can share in the experience; dad, mom, Craig and Levi must have been under inspiration to find their own cache of poop, as they all immediately exited the vehicle, Levi even tossing me out of the window, evidently  under the delusion that I would go find some more for him; as if!!! It is amazing how much more realistic dried marmot turds look coming back up.than they did going down; try it sometime if you don't believe me.
If you're out on your travels this summer, give us a shout; we'll leave the dog bowl out for you…