Just when I think that my story has ran it's course and is starting to die down a bit, something happens out there on the interwebz and there seems to be a resurgence in activity.
With new people being adopted into the family at the Casa, I feel it's necessary to occasionally restate the message behind the story; when dad and Zach rescued me from the crate, they returned with the truck only to find me trying to get back into my former prison. It occured to dad that we all have some sort of crate, whether it be a cubicle at work, a chemical addiction, an abusive relationship, or even a multi million dollar lifestyle that one is so crippled with fear at the prospect of losing.
Many have said that I returned to the crate because that was all I knew; I would add that someone or something can release you from your crate, but until you have a vision of a better way, you will promptly return to it or find another just as confining.
I now have that vision; even though I have transformed from that emaciated shell of a dog to the sometimes cocky fun pig I am today, I realize that it's not about me(don't tell dad);
it's about us.
"Us" is a family brought together by a story of a dog, but it's not just about dogs, it's about realizing that we all matter and make a contribution, regardless of age, infirmity, social or financial status, we ALL matter. I often wonder about my previous owners who thought my worth so little that they sat me out by the road like you would a trash can on Monday morning; what would they think if they could see me now? Knowing that I have journeyed farther in the last few weeks than they will ever travel in their claustrophobic little lives? Living well is the best revenge…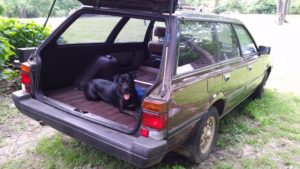 Now comes the fun stuff; dad got some great news today concerning Miss Ellie's heart condition, and plans are starting to percolate concerning an epic road trip this summer; camping along the back roads across the mountain passes of the Rockies into Utah, then on to Crested Butte for the Independence Day parade. Of particular note is that the moon will be in the "new" phase, making sleeping under a sheet of stars an especially rewarding experience.
Whether the Bravomobile is a Subaru, a motorcycle, or sometimes just my own imagination, it's not about where it takes me from, or even where it takes me to that matters; it's all about the journey, and the stories of the people we meet along the way.
See you on the road…